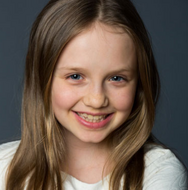 Willow McCarthy is an American child actress who played the role of Matilda Wormwood in Matilda: the Musical. Willow was the final Broadway Matilda.
Credits
Broadway
Matilda as Matilda
1984 as Child
Trivia
Willow is the daughter of well-known actor, director, and author, Andrew McCarthy.
Willow is best friends with Theodora Silverman who played Ivanka in Once. The two attend camp together.
Matilda was Willow's professional acting debut.
During her run, Willow shared the title role with Ava Briglia, Aviva Winick and Tori Feinstein
Willow is the last Matilda to debut in the original Broadway production.
Willow performs in a full British accent as Matilda instead of the partial accent used by other American Matildas.
Willow is friends with Lily Brooks O'Briant who played Matilda on the national tour.
Willow has two brothers, Sam and Rowan.
Willow played Matilda in the final performance of the Broadway production.