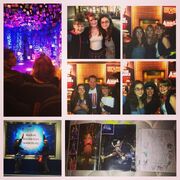 Hey peoples just your regular theatre freak obsessed with Matilda: The Musical
                                                                        (Hence the reason I'm Here
-not on purpose :P) I'm from Long Island, New York, and have seen 6 Broadway shows. My top 3 are Matilda, Phantom, and Wicked (in that order). I'm 5' tall and 14 so just miss the broadway cut off to be one of Matilda's friends. I do not go to an acting school, but my mum is trying to get me into one. Matilda had brought me closer with my only 2 two friends in my schools and has also introduced me to many nice people in the cast as well as 2 really nice people from Singapore. :) Read below for more in depth info on me ya stalkers!!
Personal Life
Arts:
I love to draw, but don't actually take any art classes at my school
As soon as my schedule opens I will be taking acting at my school
I am currently working to get my school's dance class counted as a gym credit mainly because I would much rather spend and whole period working out doing something I love with a bunch of dancers whom I can tolerate than be bullied by the people who lazily sit around all period in my gym class.
I will be resuming my voice lessons in the fall
I am outside third stand first violin in my school's freshmen orchestra
I am outside second stand second violin in my school's Chamber Ensemble
I have only been in 2 shows previously
My first was Beauty and the Beast in 6th grade, but seeing as the costumes were from another towns high school and I was 4'3 at the time, I was cast as part of the ensemble cuz it doesn't matter if you're a towns women and your skirt is a little long
I was also in the Ensemble of my school's road show "The Little Mermaid", which I had to make my costume for.
Modeling:
I am an amateur model for my sister
I have been in PDN and several other student-run magazines
I have been featured on the Vogue Italia website
A photograph of me won honorable mention at a Gallery show
My sister's website: http://jessicadonnellan.4ormat.com/home (yes the picture on the homepage is of me)
Community content is available under
CC-BY-SA
unless otherwise noted.