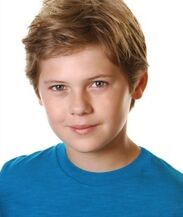 Luke Kolbe Mannikus (born November, 7 2001) is an American child actor who was a swing for the roles of Bruce, Nigel and Eric on Broadway, and is currently the swing for Bruce, Nigel, and Tommy on the Acrobat Tour.
Credits 
Broadway
Tours
Trivia
Luke had his first performance on Broadway on March 6, 2013 and his last performance on August 21, 2013.
Luke had his first performance in the Acrobat tour on May 17, 2015 in the role of Bruce.
Almost two years after leaving the Broadway production, Luke reprised his role for the Acrobat Tour.