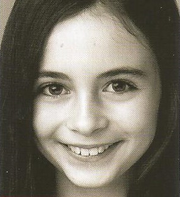 Lara McDonnell (born November 7, 2003) is an Irish child actress who played Matilda in Matilda, West End between 17th March 2015 and 19th March 2016.
Credits
West End
Tours
Joseph as Children's choir member
Films
Love, Rosie as Young Rosie Dunne
"Artemis Fowl "as Captain Holly Short
Trivia
On December 22rd 2016, Lara served as emergency cover for the role of Matilda on the 22nd December 2016 when a significant portion of the cast, including all four then-current Matildas, fell ill to an unknown illness.

She holds the distinction of being one of the only former Matildas to perform such an emergency cover, along with Emily-May Stephenson.
Lara is from Dublin, Ireland and is the first ever Irish Matilda.