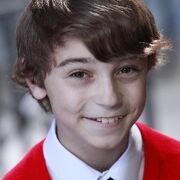 Jamie Aaron Kaye (September 6, 1999) and was one of the original cast members in the London production of Matilda, where he played the role of Tommy.
He then played a stint in the role of Young Don in Singin' in the Rain, until the production's final night.
He reprised the role of Tommy for a further 6 months starting with the cast change in September 2013. His first performance was Wednesday 4th September and finished his run in March. He has stated he will take a break from performing afterwards.
Did you know?
Despite his age and being one of the oldest in his year (people born after August 31 go into the next year group), Jamie is quite short compared to most of his younger peers.
He is the second oldest Tommy in any children's cast of Matilda (excluding swings), Jake Pratt holds this record.
Jamie appeared twice on BBC One TV during 2013, firstly he performed at the Queen's Coronation Festival Gala at Buckingham Palace in July where he sung solo and then in November he was part of the Matilda medley on the Children in Need show
See Jamie performing here:
Matilda on Children in Need: [1]
Buckingham Palace: [2]