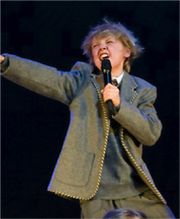 Bruce Bogtrotter is a major supporting character in Matilda the Musical. He is Matilda's classmate who Miss Trunchbull accuses of eating her chocolate cake. As punishment, he is forced to eat an entire chocolate cake before being sent to the Chokey.
Songs
Bruce appears the in following songs:
"Miracle"
"School Song"
"Bruce"
"When I Grow Up"
"The Smell of Rebellion"
"Revolting Children"
"When I Grow Up (reprise)"
Actors 
Stratford 
Original West End
Current West End
Owen Bagnalli

Harrison Langham

Ben Lewis
Former West End
Jake Ibelo (April–May 2012)
Callum Henderson (February–August 2012)
Joseph Holgate (April–August 2012)

Miles Paloma

(April–August 2012)
Elliot Reeve (August 2012–February 2013)
Max Stephens (August 2012–February 2013)
James Moore (August 2012–March 2013)

Nathan Howland

(March–August 2013)
Marcus May (March–September 2013)

Daniel Dowling

(September–November 2013)
Michael Higgins (March–September 2013, December 2013)
Ben Middleton (April 2012–March 2013, October 2013–March 2014)
James Gardner (March–August 2013, November 2013–March 2014)

Garrett Tennant

(September 2013–March 2014)

George King

Rory Fraser

William Price

Oliver Loades

Keyaan Hameed
Broadway
Main
Alternate
Acrobat Tour
Main
Joshua Rush (June 2016-Present)
Corbin Bleu (February 2016-June 2016)
Tyrel Jackson Williams (May 2015-February 2016)
Alternate
Australia
Sydney
Anthony Abrakmanov
Joshua Park
Ethan Puse
Jack Reason
Melbourne
Andre Karabajakian
Campbell Maccorquodale
Daniel Stow
Caleb Waterworth
Brisbane
Dominic Ambrose
Ethan Beer
Taye Grant
Exodus Lale